11 08 - 19:00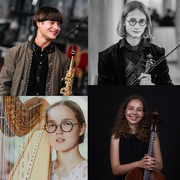 Concert "NAMES OF THE FUTURE"
Vilnius Town Hall
The 10th M.K. Čiurlionis International Music Festival presents the brightest young talents of Lithuania and Armenia. Winners of many international competitions will take the stage, performing not only in Lithuanian but also in foreign concert halls.
P E R F O R M E R S:
Davit Avetysian (alto saxophone, Armenia),
Emilė Brazytė (soprano saxophone, Lithuania),
Pijus Česaitis (violin, Lithuania),
Raigardas Daraganas (piano, Lithuania),
Rugilė Juknevičiūtė (cello, Lithuania),
Emilis Šarinskas (piano, Lithuania),
Giedra-Julija Tutkutė (harp, Lithuania)
P R O G R A M:
Marvelous pieces of the world's music treasury will be played by piano, violin, cello, harp and saxophone.
Entrance is free.
 
Read more